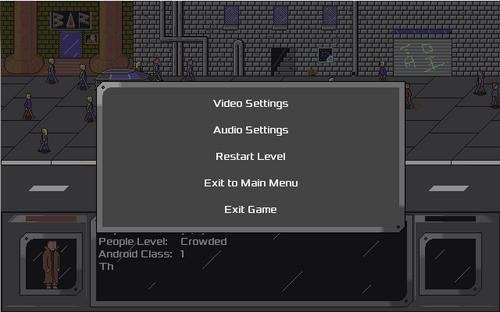 Hi everybody,
just to reassure you that I didn't go away with my project, I'm progressing very slowly because of my full-time job sucking my energy away :(

Anyway, here's my development plan:

I'm finishing the pause menu in the chase scene, here the player will be able to change the video settings (normal scale, 2x, 3x), audio settings (sounds volume, music volume, use sounds, music, both or none), restart the level, exit to the main menu (not implemented yet) and quit the game.
Once finished, I will start to work on the map scene (drawing new tiles, making sounds and music, define gameplay) and eventually refine the chase scene according to the map scene choices. To complete the chase scene I will add its music and a game over screen.
The final touch will be adding a title screen, main menu screen and the options screen (they will be reflected in the pause screen of the chase screen as well), and adding translations (Italian and Spanish for a start)
After these 3 main steps, the game will be published as complete. Here's a list of possible features that I will add in the future:
Choose between male and female agent
Adding new types of android
Adding a shop for buying guns, armor, perks, and so on...
Adding city zones (not just chasing in the streets, but through an industrial zone, or jumping for building roofs, or down in the sewers, etc)
Adding a storyline
Please consider helping/supporting me with donations, it will be a great incentive to deliver you a great game, or just try and comment my game, I will appreciate it very much :)


Thanks for your time and see you soon!